RAGE MONTHLY : Goodbye Yellow Brick Road, Hello Crumble Catering
February 15, 2019 | Joel Martens
Chef Wayne Elias, Chris Diamond, Elton John: A Legacy of Love, Food and Fundraising
When it comes to mouth-watering, inspired cuisine there are two names that rise to the top as the premier culinary purveyors for Hollywood's A-list celebrities and celebrity parties: Chef Wayne Elias and partner Chris Diamond, owners of Crumble Catering.
The official caterers for the Elton John AIDS Foundation Academy Awards Viewing Party for the last 15 years, you'd be hard-pressed to find a studio or celebrity event, large or small they haven't offered up their culinary succor to. "Organization and timing are key to the success of all our events," says Diamond. "Whether on a grand scale like the Elton John AIDS Foundation Oscar Party or an intimate Beverly Hills estate soiree, Crumble has it covered!"
Both Chef Wayne and Diamond have a long history in the restaurant world. Chef Wayne started cooking at 18 and attended the Rhode Island School of Design for Culinary Arts. Diamond's experience was more on the management side of things, "I went to school at Cal Poly Pomona for Hotel Restaurant Management. While I was going to school I worked for Catering companies like Along Came Mary and Rococo's which did all the main stream Hollywood parties.  There I learned to do every position from server to bartender and being a captain… even driving the trucks!"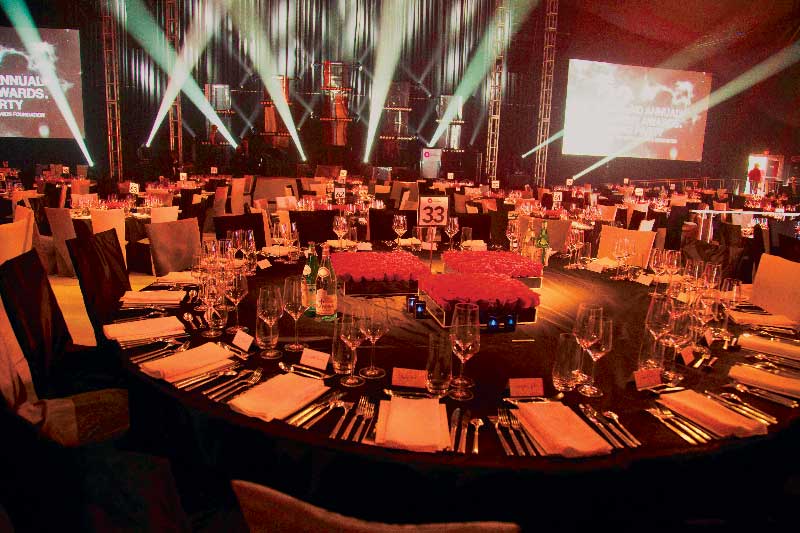 Former owners of the long-standing Marks Restaurant on La Cienega, Diamond and Chef Wayne are now co-owners of the Los Angeles entertainment eatery Rockwell Table & Stage. Aside from offering fantastic health-conscious food and innovative beverages for brunch, lunch and dinner via their uber-cool dining room and fab patio, the venue delivers live music shows, DJ sets, and some of Hollywood's best and brightest solo performers. The two realized they had extensive backgrounds in the field and a catering business was the next logical step, "After working together for five years we realized that we should start another company to focus on the catering business, forming Crumble in the year 2000."
Their latest venture is the new new Patio Café, inside the John Anson Ford Theatre for the L.A. County Performing Arts Commission, a venue and location that Diamond is particularly proud of: "This venue went through a $70 million renovation, with Chris and I consulting on the kitchen design and service areas such as the bars and order/pick up windows.  This is our third contract with the county for this venue, offering fresh made to order selections," he said. "We also have a big diversity of cultural events so we have designed the menu to include some items L.A. is famous for such as street tacos, bistro sliders, Cajun chicken with honey truffle, flat breads, vegan quinoa black bean burgers and Captain Crunch onion rings to name a few!"
The two met through a mutual friend and ended up working in the catering business together. "We did this for a couple years and eventually decided to buy Marks Restaurant in 1995, had that for 20 years, and then moved on to own Rockwell Table & Stage," said Diamond. "Rockwell Table and Stage sort of happened by accident.  We needed to leave Marks due to some lease issues, so we had some friends that owned Vermont Restaurant in Los Feliz and wanted to retire.  We really liked the area and decided to give it a try with the idea of one of our servers who one day suggested we do live music shows… and that became what we are today.  I love music and theatre so it just kind of became a natural road to follow. "
Shortly after Crumble opened, the Elton John AIDS Foundation came knocking. Diamond talked about how they connected, "My good friend Virginia Fout (has an event company called V Fout Productions) was involved with running the EJAF party and she mentioned to John Scott (former president of the EJAF), who was also a friend, that they should give us (Crumble) the chance to cater the event. The rest is history!" Chef Wayne explained further; "15 years ago, I was asked to submit a menu and low and behold they liked what I was suggesting," he shared. "They asked if I would work with another celebrity chef and be the back bone and produce, organize and run the kitchen and food service. It's an honor for me to be involved to help EJAF raise money and help people with HIV/AIDS."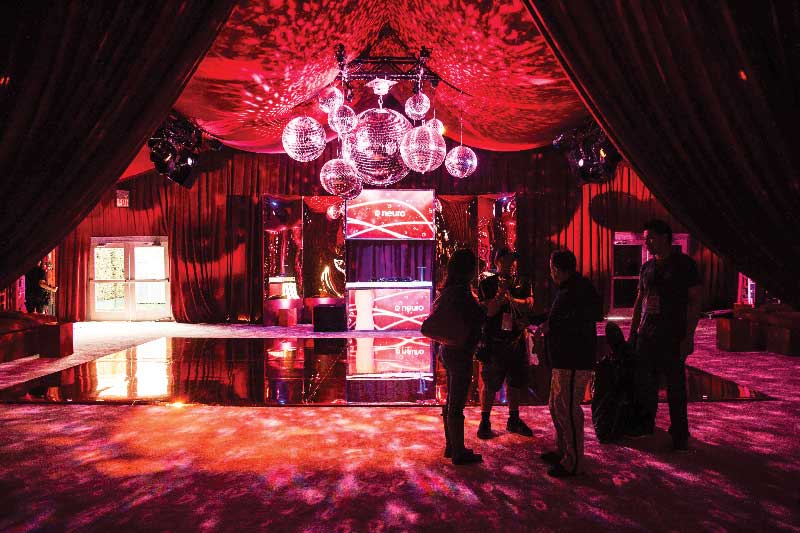 Having lost a partner in 1991 to the disease himself, Chef Wayne shared what it means to be involved with the Elton John AIDS Foundation. "We need to pave the way for the next generations. It's an important organization that provides so much for people who are impacted by HIV/AIDS and many other organizations worldwide. Knowing I can contribute by offering discounted services, donations, selling tickets, bringing in sponsors and donations is amazing." Diamond echoed his sentiments, "Being involved is a highlight of my year. We create and have fun doing one of the best parties. At the same time raising so much money for an amazing cause… nothing feels better than being involved with this party."
The two shared favorite moments from their myriad parties and events. Diamond began first, "I think my favorite party was the movie premiere of Harry Potter. There was only one in Los Angeles and we had the best time ever creating that party: 2000 lbs. of candy, chocolate rivers, a gigantic chocolate brownie mountain… you could literally eat your way through the party." Chef Wayne added his favorite moments during their events, "People watching and seeing everyone enjoying themselves is what the stand-outs are every year."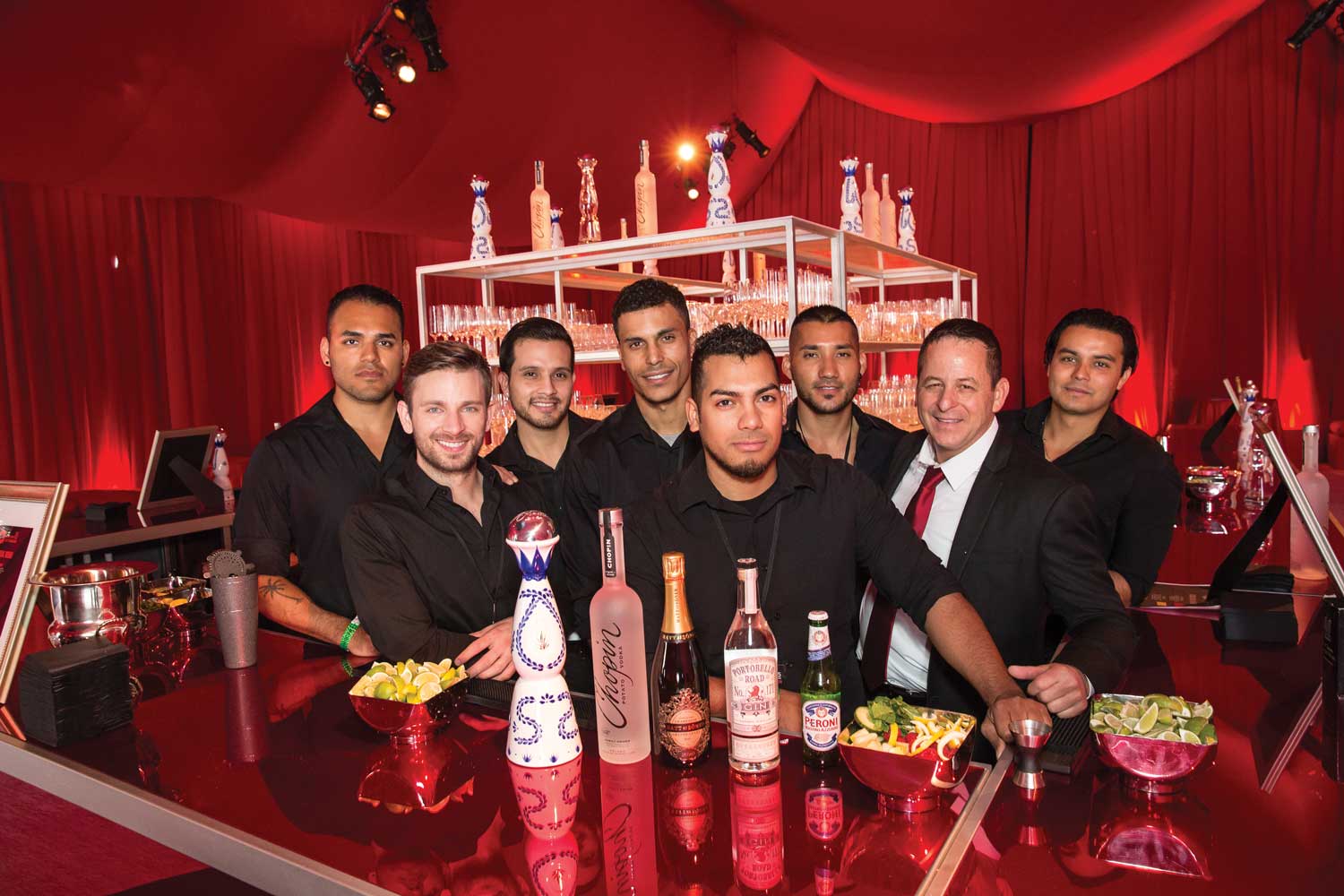 Crumble Catering is located in Los Angeles for more information, go to crumblecatering.com
Rockwell Table & Stage is located at 1714 N. Vermont Avenue
in Los Angeles. For more information, to book a table or to see the entertainment lineup go to rockwell-la.com.
Since this month is all about love and romance, we asked both what their ideal romantic dinner would be.
Chef Wayne's romantic food experience would go something like this: "I would start off with a great bottle of Champagne and then cook for my date: Lobster Cocktail, Filet Mignon, a Chocolate is for Lovers dessert and set the ambience for the evening with candles, flowers, and dim lighting."
For Chris Diamond, Champagne is also a "must have," but the rest looks a little different: "Dinner for two on one of the French Polynesian Islands like Bora Bora or Tahiti, right on the water with candle light. A nice glass of Veuve Clicquot Rosé Champagne and a nice starter of shrimp cocktail or scampi, a steak and lobster dinner, more gorgeous wine, a chocolate dessert and then off to an over water bungalow room," he divulged. "Most importantly to be served by a hot Polynesian man in a sarong!"
One can see why they work together well, so different and yet so similar.